21 Miles to Coolville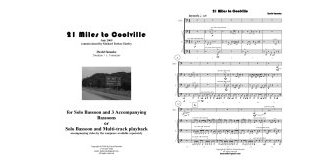 [Click image to view sample PDF score]
(four bassoons or bassoon with prerecorded playback), 9min., 2009. Commisioned by Michael Parker-Harley.

Michael Harley, solo bassoon; with Saxton Rose, Peter Kolkay and Lynn Hileman, bassoons (8'34")
"Smooke is one of the more engaging and unpretentious composers around, and his "21 Miles to Coolville" was a playful work built around a car trip to the actual town of Coolville, Ohio. Accompanied by a kaleidoscopic video of scenes from the trip (clouds, trees, other cars), bassoonist Michael Harley provided jaunty "road trip" music, which turned darker as they reached the disturbingly uncool Coolville itself."
—Stephen Brooks, The Washington Post
While teaching in Athens, Ohio at Ohio University, I was intrigued to find that the first sign on Route 50 leaving town indicated that we were 21 miles away from the town of Coolville. This piece imagines the drive along the open road through the foothills of the Appalachians, arriving at the center of cool. The music is meant to express the utter joy of driving and the mystery of the town itself. The accompanying video documents the journey between the two towns.
21 Miles to Coolville was commissioned by Michael Parker-Harley and is dedicated to him with great admiration. He was #21 on his high school football team in Indiana, a fact that helped to inspire this piece.