Criminal Element
(a nonopera in five scenes)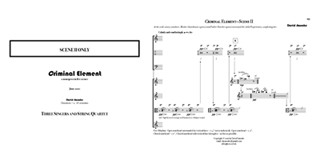 [Click image to view sample PDF score, Scene Two]
(2 sopranos, baritone, 2 violins, viola, cello), 45 min., 2011. Commissioned by and premiered by Rhymes with Opera, New York, Baltimore, Hartford, and Boston.

Rhymes with Opera: Elisabeth Halliday and Bonnie Lander, sopranos; Robert Maril, baritone; Sonar Ensemble String Quartet; George Lam, conductor, 2011
"Smooke has acknowledged Philip Glass as an early influence, which could be traced in the pulsating patterns of "Criminal Element." I thought of Morton Feldman, too; there is a lot of soft and static music.

The singers -- sopranos Elisabeth Halliday and Bonnie Lander, baritone Robert Maril -- were at their most technically secure in reflective passages, but they handled more aggressive bits with plenty of spirit. Each vocalist also ably tackled the unusual instrumental assignments required along the way -- a micro-tuned ukulele, a melodica and what I think was a dulcimer (used with particularly haunting effect in the final portion of the work).

The primary instrumental complement in the score is a string quartet, called up to produce quite a variety of subtle sounds. The West End String Quartet performed this role admirably.

However "Criminal Element" is ultimately classified genre-wise, it adds up to a highly creative, absorbing experience."
—Tim Smith, The Baltimore Sun
"In this nonopera, I consider the fraud—the unveiling of which helped spark the recession of 2008—perpetrated by Jérôme Kerviel, the rogue trader from France's Société Générale who appeared to me to function as the archetypical white-collar criminal. Like his British counterpart Nicholas Leeson, who brought down the venerable Barings Bank in the 1990s, Kerviel was an interloper in the European banking society. These men were among the first working-class hires within traditionally upper-class departments and both appear to have perpetrated their crimes as part of their vain attempts to please their superiors through outworking and outsmarting their colleagues. Here, scenes of trading—number arias—recur throughout, with each growing progressively more tense. Life beyond the office is represented by a lullaby sung by paternal and maternal figures (Kerviel's parents were a blacksmith and hairdresser in Pont-l'Abbé, Brittany), and by snippets of city life that include an invitation from friends to join their revelry. Although this piece creates theatrical scenes with some referential elements, it is a meditation on class differences and on the germinating factors in exorbitant criminal events, and is not intended to portray the life of any specific individual.
There is no text; the action is conveyed through an invented language notated in the International Phonetic Alphabet. The action therefore remains relatively ambiguous and non-specific. I ask the singers and the string quartet to explore many unusual performance techniques, which force them to stretch beyond their normal comfort zones. The joyfulness with which the singers from Rhymes With Opera and the musicians of the West End String Quartet have approached this task leads me to dedicate this work to them with great admiration."

Preview article by Bret McCabe at JHUHub (2013)


Preview interview with Chris McGovern on The Glass (2013)


Review by Megan Ihnen at Sybaritic Singer (2013)


Preview by Christian Carey at Sequenza21 (2011)

Back to Top