Introspection #11,072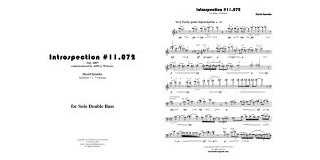 [Click image to view sample PDF score]
(solo double bass), 9 min., 2009. Commissioned by Jeffrey Weisner.

Jeffrey Weisner, doublebass, 2008

Jeffrey Weisner on Introspection #11,072
Introspection #11,072 is the second in my ongoing series of Introspections: contemplative solo pieces that explore microtonality. One of the great advantages of the double bass is its ability to play a great variety of naturally-tuned harmonics. In this piece, the opening harmonics passage gives the gamut of notes for the piece, which are then utilized in the beautiful low register of the bass. The resulting sound world is very unusual but should also feel oddly familiar to the listener.
This piece was commissioned by Jeffrey Weisner and is dedicated to him with great admiration.
Introspection #11,072
Jeffrey Weisner performs the world premiere of a new microtonal work for solo double bass by David Smooke. Recorded live in recital Griswold Hall, Peabody Conservatory of Music, Feb. 2, 2010.