Requests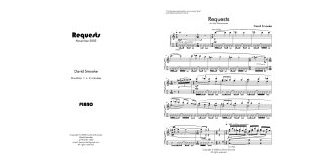 [Click image to view sample PDF score]
(solo piano), 4 min., 2003. Commissioned by Amy Briggs. Premiered by Amy Briggs, Northwestern University New Music Marathon, Evanston, IL.
Recording by Amy Briggs available soon.

Amy Briggs, piano, 2003
"David Smooke's Requests was also performed in the presence of the composer. This work from 2003, written for Briggs, exploits her technical elan and gets additional color from having her tap on the instrument. A lot of kinetic action is packed into this short and sweet score."
—Tim Smith, The Baltimore Sun
"Timothy Andres, on piano, gave a kinetic account of David Smooke's bustling, percussive "Requests.""
—Steve Smith, The New York Times
When Amy Briggs first approached me to contribute a piece for her tango project I was both excited and quite fearful. Tangos long ago achieved the status of major cultural achievements. As an outsider with relatively little experience of this genre I felt that there was little that I could add. At the same time, it would have been disingenuous to write a generally inspired piece and to cavalierly claim it as a tango.
After listening to many traditional tangos for various ensembles and experimental composers' reinterpretations of this form, this piece began to take shape. I retain the staggered rhythm in the first half of the measure that is the most recognizable element of the traditional form, using it as an accompaniment for a simple and mournful melody that to my mind evokes the mood of the dance. The piece then presents variations on this melody.