Topographies 2:
(maps and) distortions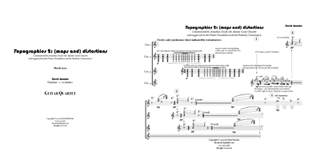 [Click image to view sample PDF score]
(guitar quartet), 10 min., 2012. Commissioned by Jonathan Zwi for the Atlantic Guitar Quartet with support from the Presser Foundation and the Peabody Conservatory. Premiered by the Atlantic Guitar Quartet at the Engineer's Club, Baltimore, MD.

Atlantic Guitar Quartet, 2012
"The Topographies series of pieces consider how our memory of place differs from the place itself. As I was conceiving this composition, I kept in mind the images found in the series of light boxes created by the guitarist and artist Jonathan Zwi, which for me evoked the idea of alien landscapes as viewed from a great height. I convey this ideal vision of impossible maps in the music as motives echo throughout the ensemble. These musical fragments are constantly distorted through the use of various unusual objects to create the sounds themselves and also through the de-tuning of the middle two guitars. The music of Topographies 2 gradually explores various sonic regions.
This work was commissioned by Jonathan Zwi for the Atlantic Guitar Quartet with support from the Presser Foundation and the Peabody Conservatory. I am indebted to all of the abovementioned, especially the members of the quartet who seemed excited to embark on this journey of sonic experimentalism and who assisted greatly in the conception and composition of the piece itself."

Back to Top