Hazmats Sextet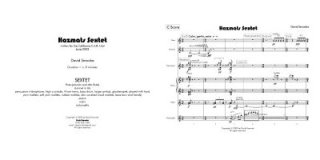 [Click image to view sample PDF score]
(flute (alto, piccolo), clarinet, percussion, piano, violin, cello),
8 min., 2005. Premiered by the California E.A.R Unit, Arcosanti, AZ.

Verge Ensemble, 2005
"Take, for instance, the superb "Hazmats Sextet" by the Peabody Conservatory's David Smooke, which opened the program. Smooke has some of the most uninhibited brain cells around: The work, which he describes as "birds flying through a continually fracturing landscape," evoked a kaleidoscopic sonic universe where anything could happen. It was one of those rare pieces you fall in love with from the get-go. If this is hazardous musical material, send more."
—Stephen Brooks, The Washington Post
This piece was written for the California E.A.R. Unit to perform at Arcosanti, the famous Paolo Soleri-designed ecologically-sound planned urban environment in the high Arizona desert. As with most of my music, it explores the relationship between humanity and nature. The bird calls that appear throughout are generally evocative rather than an exact transcription of any specific bird. They are heard in all octaves and in each instrument and their distorted nature gives the sense of being dropped into an eerie landscape. These calls eventually coalesce into an extended melody near the end of the piece. Atmospheric textures and asymmetrical grooves ebb and flow, at times serving as the ground over which the birds roam and at times altering the calls. This piece creates a range of sounds despite using very limited compositional resources, in that sense perhaps reflecting the purpose of Arcosanti.