Nutshell Studies of Unexplained Death, Vol. I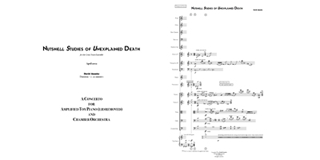 [Click image to view sample PDF score]
(solo amplified toy piano (lid removed) and chamber orchestra: flute, oboe, bass clarinet, bassoon, baritone saxophone, horn, trumpet, trombone, banjo, percussion, violin 1, violin 2, viola, cello, and bass), 18 min., 2012. Commissioned by the Great Noise Ensemble. Premiered by the Great Noise Ensemble, David Vickerman, conducting, David Smooke, solo toy piano, at the Atlas Theater, Washington, DC.

Great Noise Ensemble: David Vickerman, conductor; David Smooke, toy piano, 2012
"Fortunately, the ensemble roared back after intermission with two strong pieces and performances. David Smooke's "Nutshell Studies of Unexplained Death," inspired by crime scene dioramas, is essentially a mischievous, 15-minute concerto for toy piano. The composer sat at his tiny blood-red instrument, producing a Pandora's box of eerie sounds by bowing (threading a single string through its guts) and pawing the insides, as if scratching an itch. A foghorn tolled eerily in the bassoon, while winds and strings creaked."
— Tom Huizenga, The Washington Post
"The Nutshell Studies of Unexplained Death are housed in the Office of the Medical Examiner for the State of Maryland, in Baltimore, and can be viewed by the public with the permission of the Chief Medical Examiner. Frances Glessner Lee created these 18 sculptures over several decades and donated them to the Department of Legal Medicine at Harvard University in 1945. When that department dissolved, the Nutshells began their journey towards their current home.
At first glance, each of the Nutshells appears to be a small-scale depiction of a simple domestic scene, down to the most intimate detail. The wallpaper design of each room is lovingly recreated, and even the rocking chairs are balanced so that setting them in motion will result in the same number of oscillations as in the original home. However, as one peers more closely at the Nutshells, one realizes that each diorama contains a corpse, often killed in the most gruesome fashion. Each of the deaths presented the original investigators with a difficult mystery, and the clues to discerning the cause of death are present in each Nutshell. Some people died in bizarre accidents, while others were murdered by criminals who then attempted to cover their tracks. To this day, the Baltimore Police Department uses the Nutshells as part of their training for detectives, to help teach them how to glean salient details from scenes of unexplained death.
Analogous to the way that the Nutshells distort the nature of the dollhouse in order to transform them into a tool for serious scientific investigation, this concerto for amplified toy piano and chamber orchestra incorporates a variety of extended performance techniques to alter the very essence of the toy piano itself. In addition, the piece uses a notation system that allows each player freedom within their individual lines, only occasionally coalescing into a unified sound. The middle section gives the toy pianist several phrases that can be performed in any order while the conductor opts for one of six responses, as desired in the moment. Throughout the piece, a discerning listener might recognize distorted birdcalls or might feel transported to alien sonic landscapes that simultaneously evoke nostalgia and nausea, in equal measure."

Back to Top